With the improvement of people's living standards, more and more people like health preservation. Juyuan microelectronics has launched a cost-effective health preservation pot control solution, which provides a complete solution with the advantages of arbitrary selection of temperature, reservation time, cooking function and simple peripheral circuit.
1、 Performance characteristics of pl51t020 regimen kettle:
1. Built in 11 bit ADC, comparator, touch key, PWM and other simplified peripheral circuits;
2. The optimized temperature algorithm can be adjusted freely between 40-90 degrees;
3. Rich chip resources, mechanical keys and touch keys can be selected arbitrarily;
4. Cooking function and reservation time can be easily adjusted;
5. It has over-current protection, over-temperature protection and other protection functions.
2、 Application block diagram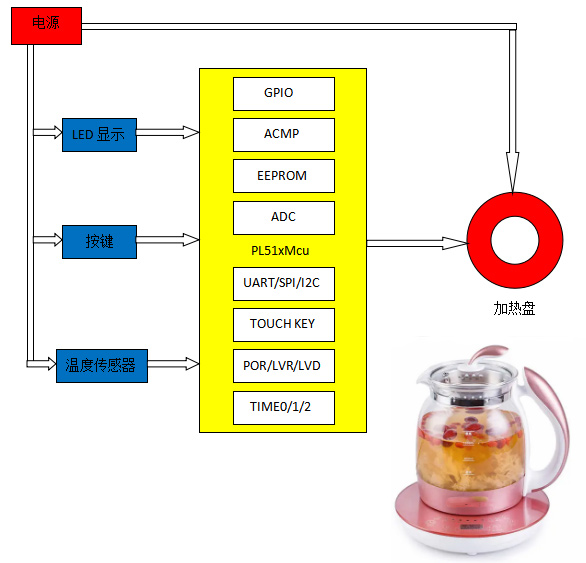 3、 Selection table
| | | | | | | | | | | | |
| --- | --- | --- | --- | --- | --- | --- | --- | --- | --- | --- | --- |
| Part No. | Flash | RAM | EEPROM | I/O | TIME | PWM | UART/SPI/I2C | ACMP | TouchKey | ADC | Voltage |
| PL51T020B24 | 4K | 256 | 128 | 14 | 3 | 4+1 | 1/1/1 | 1 | 8+4/12 | 11b/4ch | 2.0~5.5V |