Juyuan micro has AC / DC power chip products with relatively complete power range in the field of charger. We can provide you with PSR series of 3-12w built-in BJT power tube, PSR series of 7.5-36w built-in MOS power tube and PSR models of external MOS power tube, and provide reference design scheme of adapater / charger system with high cost performance, excellent performance and stable quality.
1、 Charger performance characteristics:
1. High precision constant current / constant voltage regulation within the full voltage range;
2. Remove optocoupler and secondary control circuit;
3. Built in transformer inductance compensation;
4. Low starting current, built-in soft start and undervoltage protection;
5. Built in leading edge blanking and over temperature protection;
6. Current limiting protection, overvoltage protection.
2、 Application block diagram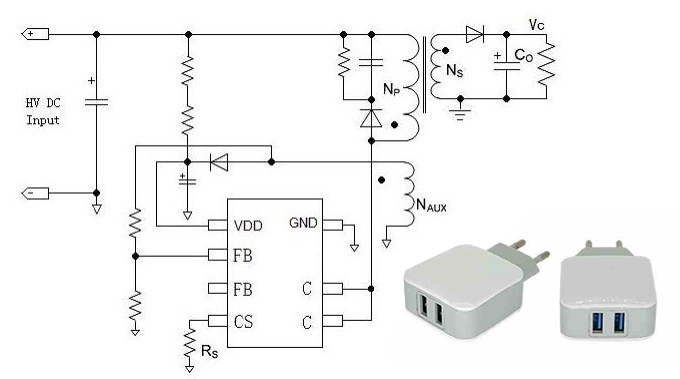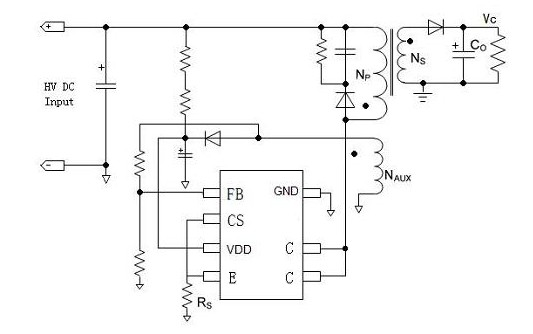 3、 Selection table
| | | | | | | |
| --- | --- | --- | --- | --- | --- | --- |
| Product | Character | SW Voltage | VDD Operation Voltage | Power bound | Package | Note |
| PL3365C | CC/CV PSR Converter | 800V(VCBO) | 4~27V | <3W | SOP7 | Charger/Adapter |
| PL3366C | CC/CV PSR Converter | 800V(VCBO) | 4~27V | <5W | SOP7 | Charger/Adapter |
| PL3367C | CC/CV PSR Converter | 700V(VCBO) | 4~27V | <7.5W | SOP7 | Charger/Adapter |
| PL3368C | CC/CV PSR Converter | 700V(VCBO) | 4~27V | <10W | SOP7/SOP8 | Charger/Adapter |
| PL3369C | CC/CV PSR Converter | 750V(VCBO) | 4~27V | <12W | SOP7/SOP8 | Charger/Adapter |
| PL3376C | CC/CV PSR Converter | 800V(VCBO) | 4~27V | <5W | SOP7 | Charger/Adapter |
| PL3378C | CC/CV PSR Converter | 700V(VCBO) | 4~27V | <10W | SOP7 | Charger/Adapter |
| PL3379C | CC/CV PSR Converter | 750V(VCBO) | 4~27V | <12W | SOP7 | Charger/Adapter |
四、应用框图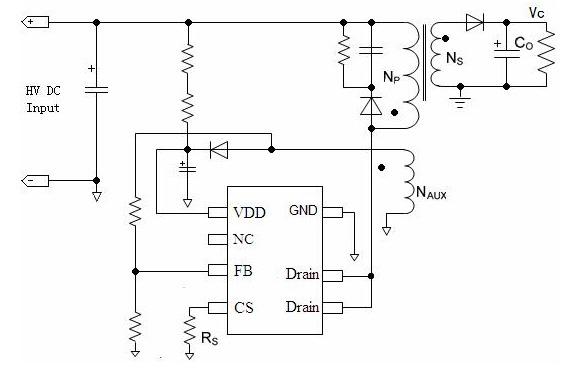 五、选型表
| | | | | | | | |
| --- | --- | --- | --- | --- | --- | --- | --- |
| Product | Character | SW Voltage | RDS(on) | VDD Operation Voltage | Power bound | Package | Note |
| PL3322B | CC/CV PSR Converter | 一 | 一 | 8~27V | 一 | SOT23-6 | Charger/Adapter |
| PL3323B | CC/CV PSR Converter | 650V | 8.0Ω | 8~27V | <7.5W | SOP7 | Charger/Adapter |
| PL3325B | CC/CV PSR Converter | 650V | 4.0Ω | 8~27V | <12W | SOP7/SOP8/DIP7 | Charger/Adapter |
| PL3326B | CC/CV PSR Converter | 650V | 2.6Ω | 8~27V | <15W | SOP7/SOP8/DIP7 | Charger/Adapter |
| PL3327B | CC/CV PSR Converter | 650V | 2.01Ω | 8~27V | <18W | SOP7/SOP8/DIP7 | Charger/Adapter |
| PL3328B | CC/CV PSR Converter | 650V | 1.14Ω | 8~27V | <24W | DIP7 | Charger/Adapter |
| PL3329B | CC/CV PSR Converter | 650V | 0.8Ω | 8~27V | <36W | DIP7 | Charger/Adapter |