At present, there are various ways to realize man-machine interconnection and interworking of terminal equipment products in the market, and there are more and more personalized customization of functional requirements. Pl51wt003 / pl51wt140 are used in combination with graffiti WiFi, ZigBee and Bluetooth networking modules to realize the communication between the equipment and the cloud through app, and solve the personalized customization of functional requirements of terminal equipment products, local scene offline mode interconnection and interworking, and ad hoc network control, Solve the problems such as inconsistent control of multiple products, so that the single product of terminal equipment has the best solution in realizing interconnection.
1、 Characteristics of graffiti cases:
1. Support app and remote control;
2. The personalized function is flexibly customized. The graffiti networking module is only used for remote communication. The function definition of the terminal product is directly completed by pl51wt003, which does not depend on the platform curing function;
3. The local control realizes multi scene linkage under the offline state, and the control distance is long, up to 30m;
4. It is applicable to a wide range of fields and supports all kinds of equipment that need to be controlled by app and remote controller.
2、 Application box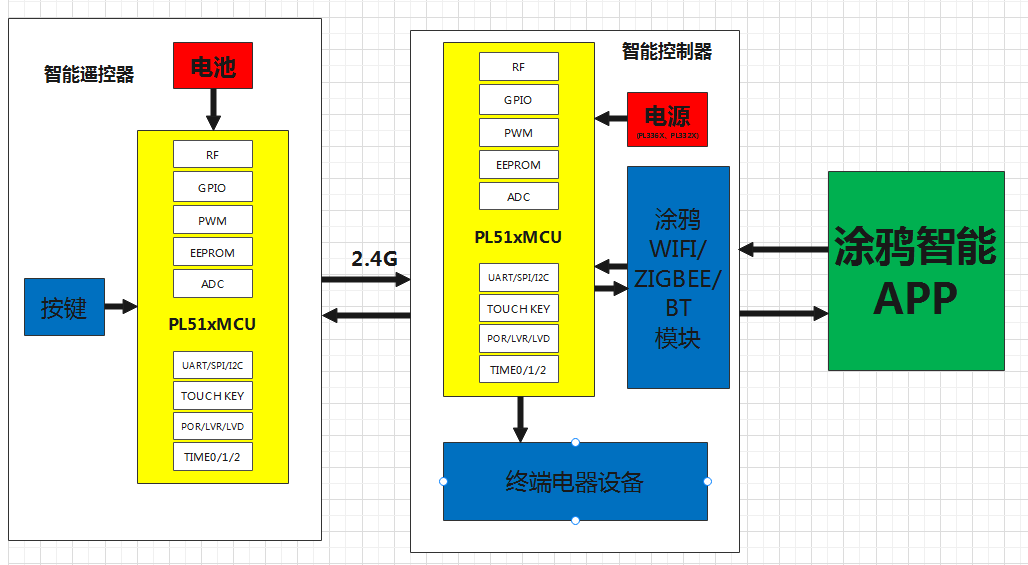 3、 Selection table
Series

Part No.

Flash

SRAM

EEPROM

I/O

Timer

Connectivity

ACMP.

PWM

OPA.

ADC

Touch Key

DAC

T.S.

RF OSC.

PLL

Voltage

Temp. Range

2.4G T/RX

ICP/ICD

Package

MoQ

UART

SPI

I2C

2.4G RF SoC

PL51WT003B24

16K

256+1K

256

16

3*16b

1

1

1

1

6*12b

1

10*11b

~14

1*5b

Y

12M

/

2.4-3.6

-40-105°

Y

ICP/ICD

SSOP24

2K Tube

PL51WT003S16

16K

256+1K

256

9

3*16b

1

1

1

1

4*12b

0

4*11b

~8

1*5b

Y

12M

/

2.4-3.6

-40-105°

Y

ICP/ICD

SOP16

2K Tube

PL51WT020B24

4K

256

128

15

3*16b

1

1

1

1

4*12b

/

8*11b

~13

/

Y

12M

/

2.0-3.6

-40-105°

Y

ICP

SSOP24

2K Tube

PL51WT020T20

4K

256

128

13

3*16b

1

1

1

1

4*12b

/

8*11b

~11

/

Y

12M

/

2.0-3.6

-40-105°

Y

ICP

TSSOP20

2K Tube

PL51WT020S16

4K

256

128

8

3*16b

1

1

1

0

4*12b

/

2*11b

~6

/

Y

12M

/

2.0-3.6

-40-105°

Y

ICP

SOP16

2K Tube