The press power remote controller can be widely used in the field of smart home, and can be adapted to various smart lamps, press doorbell and other applications.
1、 Scheme performance characteristics:
1. The scheme adopts pl51wt020 chip, which has the characteristics of high stability and low power consumption;
2. The overall scheme has simple and compact circuit and low cost;
3. Compared with the active scheme, the scheme has long service life, stability and reliability.
2、 Application block diagram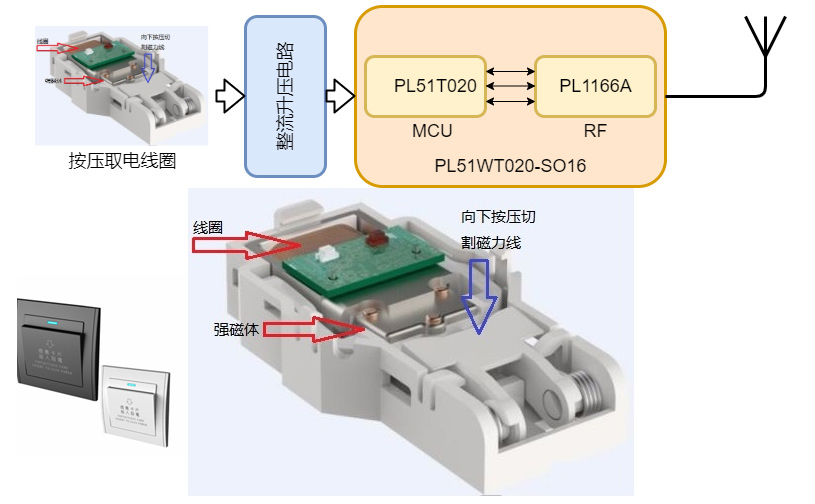 3、 Selection table
Series

Part No.

Flash

SRAM

EEPROM

I/O

Timer

Connectivity

ACMP.

PWM

OPA.

ADC

Touch Key

DAC

T.S.

RF OSC.

PLL

Voltage

Temp. Range

2.4G T/RX

ICP/ICD

Package

MoQ

UART

SPI

I2C

2.4G RF收发器

PL1166A/T16

/

/

/

/

/

/

1

1

/

/

/

/

/

/

/

12M

/

1.9-3.6

-40-105°

Y

/

TSSOP16

4K T&R

PL1167/T16

/

/

/

/

/

/

1

1

/

/

/

/

/

/

/

12M

/

1.9-3.6

-40-105°

Y

/

TSSOP16

4K T&R




2.4G RF SoC

PL51WT003B24

16K

256+1K

256

16

3*16b

1

1

1

1

6*12b

1

10*11b

~14

1*5b

Y

12M

/

2.4-3.6

-40-105°

Y

ICP/ICD

SSOP24

2K Tube

PL51WT003S16

16K

256+1K

256

9

3*16b

1

1

1

1

4*12b

0

4*11b

~8

1*5b

Y

12M

/

2.4-3.6

-40-105°

Y

ICP/ICD

SOP16

2K Tube

PL51WT020B24

4K

256

128

15

3*16b

1

1

1

1

4*12b

/

8*11b

~13

/

Y

12M

/

2.0-3.6

-40-105°

Y

ICP

SSOP24

2K Tube

PL51WT020T20

4K

256

128

13

3*16b

1

1

1

1

4*12b

/

8*11b

~11

/

Y

12M

/

2.0-3.6

-40-105°

Y

ICP

TSSOP20

2K Tube

PL51WT020S16

4K

256

128

8

3*16b

1

1

1

0

4*12b

/

2*11b

~6

/

Y

12M

/

2.0-3.6

-40-105°

Y

ICP

SOP16

2K Tube




Series

Part No.

Flash

SRAM

EEPROM

I/O

Timer

Connectivity

ACMP.

PWM

OPA.

ADC

Touch Key

DAC

T.S.

Freq.

PLL

Voltage

Temp. Range

2.4G T/RX

ICP/ICD

Package

MoQ

UART

SPI

I2C

4K flash MCU

PL51T020S8

4K

256

128

6

3*16b

0

0

0

0

4*12b

/

2*11b

~5

/

Y

~12M

NA

2.0-5.5

-40-125°

N

ICP

SOP8

2K Tube

PL51T020N16

4K

256

128

14

3*16b

1

1

1

0

6*12b

/

4*11b

~12

/

Y

~12M

NA

2.0-5.5

-40-125°

N

ICP

QFN16

4K T&R

PL51T020S16

4K

256

128

14

3*16b

1

1

1

0

6*12b

/

4*11b

~12

/

Y

~12M

NA

2.0-5.5

-40-125°

N

ICP

SOP16

2K Tube

PL51T020N20

4K

256

128

20

3*16b

1

1

1

1

6*12b

/

6*11b

~20

/

Y

~12M

NA

2.0-5.5

-40-125°

N

ICP

QFN20

4K T&R

PL51T020T20

4K

256

128

20

3*16b

1

1

1

1

6*12b

/

6*11b

~20

/

Y

~12M

NA

2.0-5.5

-40-125°

N

ICP

TSSOP20

2K Tube

PL51T020B24

4K

256

128

22

3*16b

1

1

1

1

6*12b

/

8*11b

~20

/

Y

~12M

NA

2.0-5.5

-40-125°

N

ICP

SSOP24

2K Tube

PL51T020N24

4K

256

128

22

3*16b

1

1

1

1

6*12b

/

8*11b

~20

/

Y

~12M

NA

2.0-5.5

-40-125°

N

ICP

QFN24

4K T&R