This scheme adopts pl51t / a003 chip, which integrates 16kb flash, 256byte true EEPROM, 11bit ADC, 6-channel PWM and other rich resources; The scheme software realizes nickel chromium lithium battery charging management, overshoot and discharge protection; Abnormal anti burning machine functions such as motor drive and motor jamming; Interview dynamic display, use time, remaining power evaluation and other functions.
1、 Application scheme features
1. The main control chip pl51t / a003 has rich resources and high integration;
2. 11bit ADC module, integrating battery charge and discharge protection and remaining available power evaluation;
3. Motor working current detection, real-time detection of overload current;
4. There are many IO resources to achieve a variety of screen display effects and dynamically update the usage and remaining power;
5. 16kb flash program space, which can optimize various battery management algorithms.
2、 Application block diagram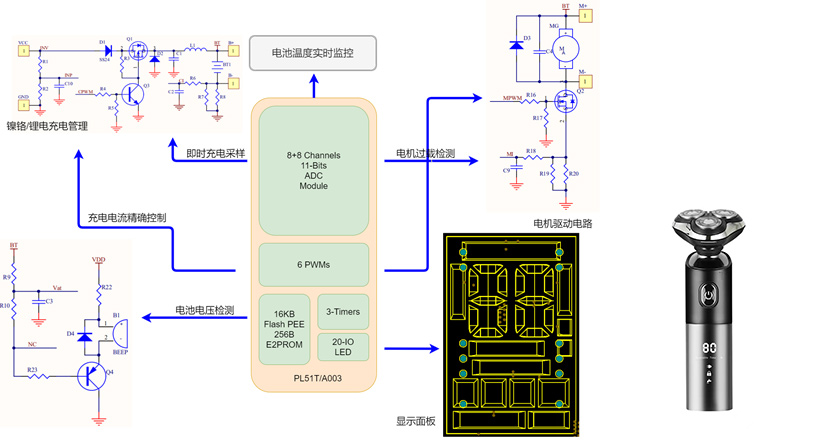 3、 Selection table
Series

Part No.

Flash

SRAM

EEPROM

I/O

Timer

Connectivity

ACMP.

PWM

OPA.

ADC

Touch Key

DAC

T.S.

Freq.

PLL

Voltage

Temp. Range

2.4G T/RX

ICP/ICD

Package

MoQ

UART

SPI

I2C

16K flash AD型 MCU

PL51A003S16

16K

256+1K

256

14

3*16b

2

1

1

0

6*12b

1

8*11b

/

1*5b

Y

~12M

NA

2.4-5.5

-40-125°

N

ISP/ICD

SOP16

2K Tube

PL51A003T20

16K

256+1K

256

18

3*16b

2

1

1

1

6*12b

1

16*11b

/

1*5b

Y

~12M

NA

2.4-5.5

-40-125°

N

ICP/ICD

TSSOP20

2K Tube

PL51A003N20

16K

256+1K

256

18

3*16b

2

1

1

1

6*12b

1

16*11b

/

1*5b

Y

~12M

NA

2.4-5.5

-40-125°

N

ICP/ICD

QFN20

4K T&R

PL51A003B24

16K

256+1K

256

18

3*16b

2

1

1

1

6*12b

1

16*11b

/

1*5b

Y

~12M

NA

2.4-5.5

-40-125°

N

ICP/ICD

SSOP24

2K Tube

PL51A003N24

16K

256+1K

256

18

3*16b

2

1

1

1

6*12b

1

16*11b

/

1*5b

Y

~12M

NA

2.4-5.5

-40-125°

N

ICP/ICD

QFN24

4K T&R




16K flash 触摸型 MCU

PL51T003S16

16K

256+1K

256

14

3*16b

2

1

1

0

6*12b

1

8*11b

~12

1*5b

Y

~12M

NA

2.4-5.5

-40-125°

N

ISP/ICD

SOP16

2K Tube

PL51T003S20

16K

256+1K

256

18

3*16b

2

1

1

1

6*12b

1

16*11b

~18

1*5b

Y

~12M

NA

2.4-5.5

-40-125°

N

ICP/ICD

SOP20

2K Tube

PL51T003N20

16K

256+1K

256

18

3*16b

2

1

1

1

6*12b

1

16*11b

~18

1*5b

Y

~12M

NA

2.4-5.5

-40-125°

N

ICP/ICD

QFN20

4K T&R

PL51T003T20

16K

256+1K

256

18

3*16b

2

1

1

1

6*12b

1

16*11b

~18

1*5b

Y

~12M

NA

2.4-5.5

-40-125°

N

ICP/ICD

TSSOP20

2K Tube

PL51T003B24

16K

256+1K

256

22

3*16b

2

1

1

1

6*12b

1

16*11b

~20

1*5b

Y

~12M

NA

2.4-5.5

-40-125°

N

ICP/ICD

SSOP24

2K Tube

PL51T003S24

16K

256+1K

256

22

3*16b

2

1

1

1

6*12b

1

16*11b

~20

1*5b

Y

~12M

NA

2.4-5.5

-40-125°

N

ICP/ICD

SOP24

2K Tube

PL51T003N24

16K

256+1K

256

22

3*16b

2

1

1

1

6*12b

1

16*11b

~20

1*5b

Y

~12M

NA

2.4-5.5

-40-125°

N

ICP/ICD

QFN24

4K T&R