At present, there are more and more automobile users, automobile electronics are developing rapidly, and the multimedia control in the car is cumbersome and diverse. Using the automobile remote controller designed by pl51wt020 can well solve the wireless control of multimedia and other functions in the car. The remote controller is made into a random paste mode, which can be installed in any position in the car, and the control effect is not affected by directional obstacles.
1、 Scheme and performance characteristics of automobile remote controller
1. Low power consumption, simple scheme and simple use;
2. 360 ° no dead angle, controllable at any position in the vehicle;
3. Financial card level encryption, safe and reliable data transmission;
4、4KB flash+128B;
5. Wireless rate: 1Mbps.
2、 Application block diagram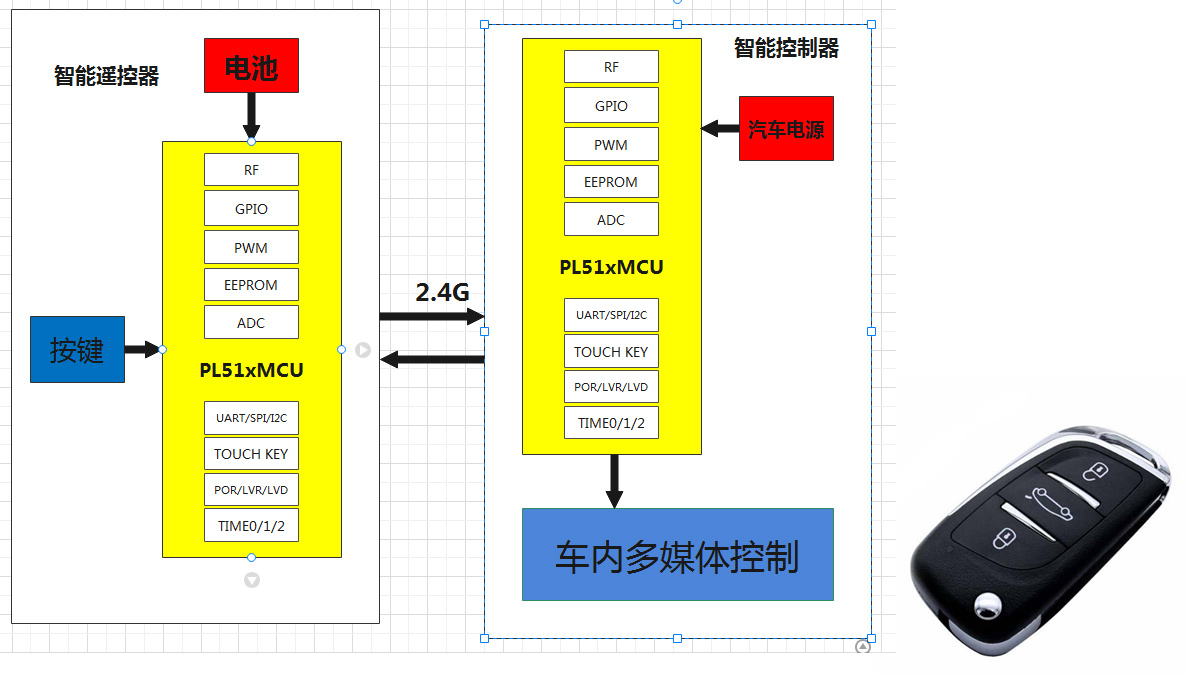 3、 Selection table
Series

Part No.

Flash

SRAM

EEPROM

I/O

Timer

Connectivity

ACMP.

PWM

OPA.

ADC

Touch Key

DAC

T.S.

RF OSC.

PLL

Voltage

Temp. Range

2.4G T/RX

ICP/ICD

Package

MoQ

UART

SPI

I2C

2.4G RF SoC

PL51WT020B24

4K

256

128

15

3*16b

1

1

1

1

4*12b

/

8*11b

~13

/

Y

12M

/

2.0-3.6

-40-105°

Y

ICP

SSOP24

2K Tube

PL51WT020T20

4K

256

128

13

3*16b

1

1

1

1

4*12b

/

8*11b

~11

/

Y

12M

/

2.0-3.6

-40-105°

Y

ICP

TSSOP20

2K Tube

PL51WT020S16

4K

256

128

8

3*16b

1

1

1

0

4*12b

/

2*11b

~6

/

Y

12M

/

2.0-3.6

-40-105°

Y

ICP

SOP16

2K Tube