Energy saving, green and environmental protection are paid more and more attention by consumers. As a new lighting product, led meets the needs of today's consumers, and LED intelligent lighting has also become an indispensable product in daily life. The ceiling lamp scheme designed by pl51wt020 is used to realize the wireless control of light brightness, color, regular light off and other functions, and the remote controller is made into a random paste mode, It can be installed at any position in the home environment, and the control effect is not affected by directional obstacles.
1、 Scheme performance characteristics
1. Low power consumption, simple scheme and simple use;
2. 360 ° no dead angle, controllable at any position in the family;
3. Financial card level encryption, safe and reliable data transmission;
4. 4KB Flash + 128B, wireless rate: 1Mbps.
2、 Application block diagram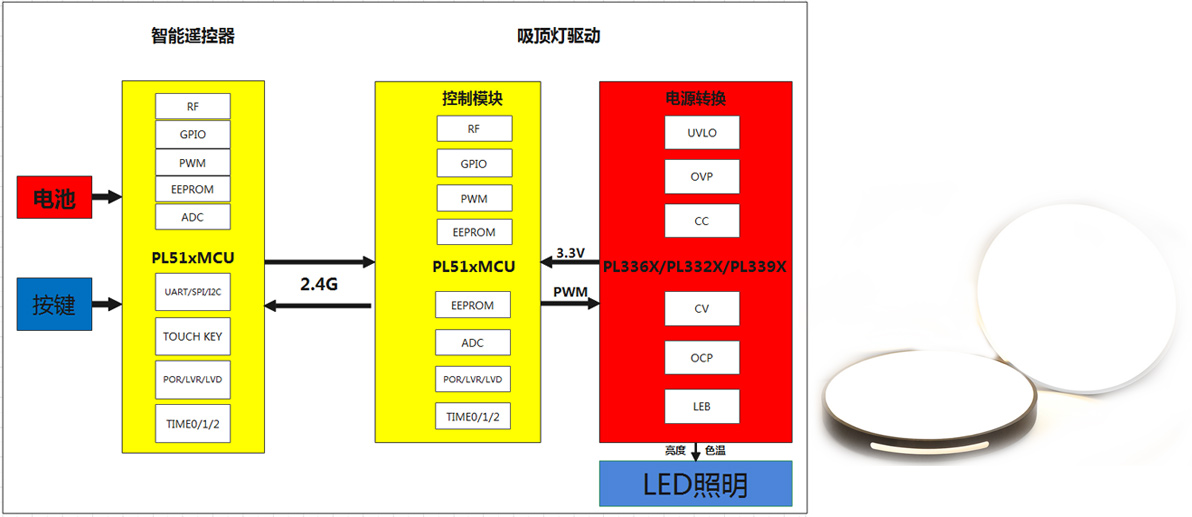 3、 Selection table
Series

Power bound

P/N

Package

Switch Para.

MoQ

AC-DC(PSR)

<3W

PL3365A/B/C

SOP7

BJT




800V

4K T&R

<5W

PL3366A/B/C

SOP7

BJT




800V

4K T&R

<7.5W

PL3367B/C

SOP7

BJT




700V

4K T&R

<10W

PL3368B/C

SOP7

BJT




700V

4K T&R

<10W

PL3368BE/CE

SOP8

BJT




700V

4K T&R

<12W

PL3369B/C

SOP7

BJT




700V

4K T&R

<12W

PL3369BE/CE

SOP8

BJT




700V

4K T&R

<60W

PL3322B

SOT23-6

MOS




Ext.

3K T&R

<7.5W

PL3323BS

SOP7

MOS

8.0Ω

650V

4K T&R

<12W

PL3325BS

SOP7

MOS

4.0Ω

650V

4K T&R

PL3325BE

SOP8

4.0Ω

4K T&R

PL3325BD

DIP7

4.0Ω

2K Tube

<15W

PL3326BS

SOP7

MOS

2.6Ω

650V

4K T&R

PL3326BE

SOP8

2.6Ω

4K T&R

PL3326BD

DIP7

2.6Ω

2K Tube

<18W

PL3327BS

SOP7

MOS

2.01Ω

650V

4K T&R

PL3327BE

SOP8

2.01Ω

4K T&R

PL3327BF

SOP8

2.01Ω

4K T&R

PL3327BD

DIP7

2.01Ω

2K Tube

<24W

PL3328BD

DIP7

MOS

1.14Ω

650V

2K Tube

<36W

PL3329BD

DIP7

MOS

0.8Ω

650V

2K Tube




SSR-MOS

<5W

PL3391AS

SOP7

MOS

8.0Ω

650V

4K T&R

<12W

PL3392AD

DIP7

MOS

4.0Ω

650V

2K Tube

<15W

PL3393AS

SOP7

MOS

2.3Ω

650V

4K T&R

<18W

PL3393AD

DIP7

MOS

2.01Ω

650V

2K Tube

<18W

PL3394AE

SOP8

MOS

2.01Ω

650V

4K T&R

<24W

PL3394AD

DIP7

MOS

1.14Ω

650V

2K Tube

<36W

PL3395AD

DIP7

MOS

0.8Ω

650V

2K Tube